Move the Ball is a companion to the highly successful Let The Players Play.
It is a comprehensive guide to teaching young players how to keep possession in the basic 'box' practices of 5v2, 3v1 and 4v2.
Uniquely, it integrates these practices and links them to the work being done in the 2v2, 3v3 and 4v4 small-sided games, in a way that will help you, the grassroots coach, to help your players learn the game in very clearly defined steps.
Each practice builds on the one before it and helps to reinforce all that the players have previously learned.
Using a coaching philosophy of guided discovery, it shows you how to ask appropriate questions, guide the players towards finding answers and ultimately give them the ability to effectively make these decisions for themselves.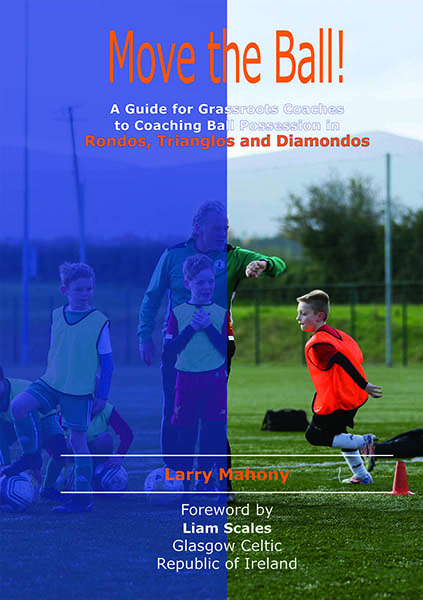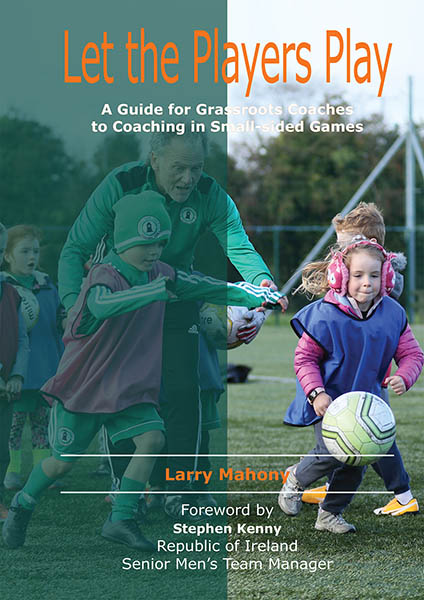 A guide for grassroots coaches to coaching in small sided games by Larry Mahony.
This comprehensive guide shows how to develop a young player's football intelligence by coaching in-game during practice sessions. It is not concerned with specific soccer techniques, but with the learning of team skill. Starting with the smallest unit – two outfield players – it focuses exclusively on how young players relate to and communicate with each other to become a team. While patience is key as children mature, this book demonstrates that – by concentrating on fun, small-sided games – we can eventually teach them that playing in position can be a liberating experience.
Promoting a coaching philosophy of guided discovery, it outlines their journey from enjoying an individual, dribbling–based game to a more structured, team-oriented passing and dribbling style. Much like players are often said to be in the right place at the right time, this guide will help coaches to ask relevant questions at the appropriate moment. It crucially helps coaches to provide the answers too, and ultimately give the players the ability to make decisions and find solutions for themselves.
This guide promises to help grassroots coaches deliver the most difficult and most important part of any coaching curriculum: coaching in the game. Many coaches are good at running drills, but very few can provide timely and accurate instruction for players on how to actually play the game, in the game. Now they can find out what to teach, the order in which to teach it and vitally, how to communicate this information to young players. It's the result of many years of trial and error and is – we believe – the first book to attempt to help coaches in this way, with this level of detail.
He has a gift for simplifying what might be complex concepts and this, in a nutshell, is what his books are all about.
He presents grassroots coaches with a sensible, uncomplicated pathway for teaching young players in small-sided games, which will allow the players to unlock their potential to play skilfully, intelligently and competitively.
Stephen Kenny – Ireland Senior Mens Coach
His enthusiasm for this work, coupled with his ability to communicate with youngsters on their level, marks him out as an outstanding children's coach. His range of experience and his common-sense approach leaves him perfectly placed to produce guides, such as these, for grassroots coaches.
I would heartily recommend Larry's books to all those interested in properly teaching the game to young players.
Shane Robinson Academy Director SRFC
I know him best through his coaching of young players in my home village of Enniskerry. The children play at different levels and have different levels of ability, but they all benefit from
his great attention to detail
and his determination to help every single one to improve. In every session I've seen, his
enthusiasm for teaching
and his love for the game has shone through.
I'm certain that the books will
help grassroots coaches to help their young players
in the same way.
Áine O'Gorman – Peamount United and Irish International
Larry Mahony is a former FAI UEFA 'A' Licence instructor with over 30 years of coaching experience. He has provided expert coaching for players at every level of football in Ireland, from the youngest beginners all the way up to the professionals of Ireland's National League. He has worked with underage international teams and – as coach on the FAI player education programmes – was instrumental in the development of full internationals Roy Keane and Mark Kennedy.
A former youth international himself, he was previously a first-team coach at Ireland's premier club, Shamrock Rovers, as well as Drogheda United, Bray Wanderers and Athlone Town. He was also a national league and cup winner as head coach of the University College Dublin women's team.